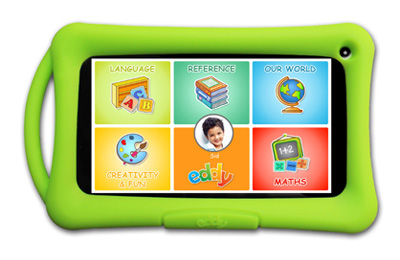 With android 4.2 powered target tablet educational solutions startup metis learning today launched kids android tablet in market aged between 2 to 10 years. On amazon.com from February 20th will be exclusively available this tablet.
This tablet manufactured in China along great functionality as 7-inch screen tablet sports a 1.6 GhZ, 8 GB internal memory, 1GB RAM dual core processor. Over 100 years of experienced will be included in this tablet then according to that designed like school curriculum map, learning based games. Also in the tablet children can read book with enjoyment, learning piano, and exploring knowledge added world news.
So in simple word eddy is the new age dynamic featured tablet for the children.  The parameter of game in tablet is violence free, easy to choose & highly knowledgeable engaged for children.
The main key benefit for parents is that this tablet not giving headache to parents even it reduces some burden on parents related to children.