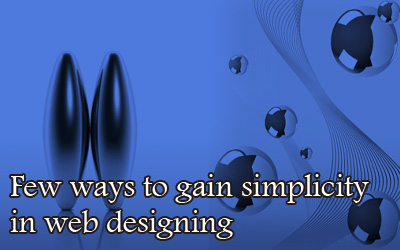 Today's online trend has given many simple designs to web designers that give website an attractive and appealing look. This type of web design is more informative and this process is known minimalist. Users gain more information when they visit the website. Here are some tips given that will help you to bring minimalism in website.
Minimal clutter and maximum focus
Many new websites have its focus on including many things together and in this phase cover up many unimportant things that is all vain. This happens with first time designer to show their skills they use all the widgets and tools and include more tools. Always search for the visitors and analyze what they would like to visit then cove up those things first.
Stay on the upper fold
Mostly people do not like to visit whole page and just read the content on first page. Scrolling sometimes is avoidable by many peoples; they read the content that is above the fold. So try to reduce the header size buttons and reduce scrolling.
Bring down the page count
Too many pages in your website can mislead the visitor. Whenever writing the content then think from the visitors point view and make the size of paragraph up to 5 or 6 lines thereby they can read quickly. If you are showing page count down side then it would be more informative and it will show that you want to give more and more information to visitors in a systematic ways.
The 80/20 rule
The 80/20 rule can improve more in your website and give attractive look. Try to focus on the content of the website and focus on the main content that is why visitors can access the content quickly.