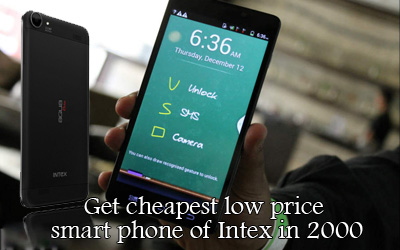 Given the demand of cheap smart phone in Indian market, Intex about to launch a Smart phone on low prices.  On 25 august 2014 intex is going to bring a phone worth less than 2000. The name of the upcoming phone will be cloud FSI. Company has sent an event invitation with tagline that is related to lowest price Smartphone. Company announced in June that will launch a Smartphone with Firefox OS worth less than 2000. Facebook, Twitter like applications will be pre-installed in Smartphone.
Some features of this Smartphone are-
3.5 inch screen
1 GHZ processor
2 megapixel real camera
Wi-Fi
Connectivity with Bluetooth
 Strong battery life
Headphone
Else features will announce at time of launch.
Recently spice has launched a Smartphone Fire one Mi-FX 1 of worth 2229 but Intex has announced a Smartphone worth less than 2000.  Some time ago Mozilla Company has launched a prototype with Firefox OS ultra low budget Smartphone worth around 1500. But this phone is not available in Indian market. Chief executive of Spice Mobility limited Company Prashant Bindal has announced that he wants to provide more than 90 percent features in this Smartphone thereby in low price peoples can connect to the internet as the recent time is of Social Media.