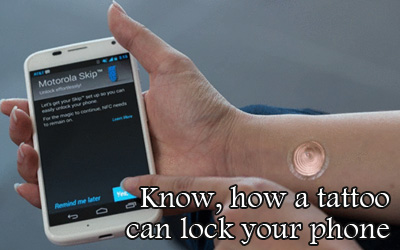 How well if your just hand touch can unlock your phone and except you no one can open phone lock. Till you have seen a loads of ways of unlock the phone of different companies like thumb lock, or many other pattern of lock. But have you seen that a tattoo can unlock your phone?
Effort of Motorola
Motorola has find out this new idea to unlock its new Smartphone Moto x specially. Now you do not any password or pattern to unlock your Smartphone, your tattoo will unlock your phone.
To unlock the Moto x Motorola is giving you facility of digital tattoo that is amazing and very easy to use. If you will put your Moto x Smartphone's back side on your body's tattoo then in just wink your phone would get unlock.
This technique will be beneficial for those peoples who do not want to share his personal and confidential information with others and other one would not be able to unlock your Smartphone.