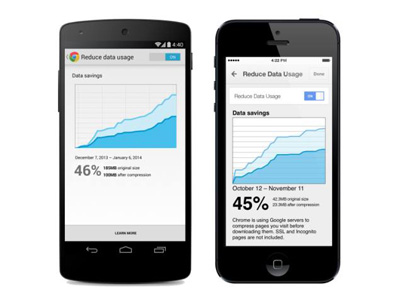 The new updated app of Google chrome is cut the 50 percent consumption from the previous according to Google technical team. Also the new Google chrome increases rank of visibility around the world related to internet browsing that can by apply on desktop, laptop, Smartphone and tablet.
Before the changes Google chrome blog post conduct a survey by pew internet & in which 20 percent people use Google chrome 24 on Smartphone so that the detail of chrome blog post need some advancement in the Google chrome app and this make more better chrome app.
According to the company when user do not use the Wi-Fi connection then his internet data in mobile running so fast that is the reason user want Google chrome that run accurately with low data usage in2G, 3G & 4G.
For Android and iOS devices new update chrome reduces the internet data usage till 50 percent. Within few days the updated Chrome for Android and iOS apps have started to be rolled out and will be pushed globally. Google Chrome Company also announced that it will be adding Google Translate to Google Chrome for iOS in the next few days.