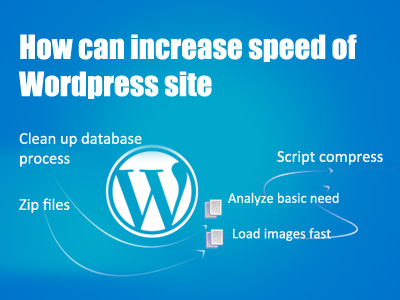 In this today's technical world it is must that loading time of a website must be less because if website take time to load then it may blow negative impact on your business. Google also prefers to rank that website whose loading time is much less. Here are some tips that may help you to increase the speed of WordPress sites.
Analyze basic need
Always prefer good webhosting companies that provide you best features to increase your website speed. Do not consider budget if your website is good and can earn more money. For a successful website it is must that hosting companies should be good.
Obtain lightweight theme for WordPress sites that fulfill your objective and reduce redundancy.
Image size
Reduce image size as far as possible because less image size can increase the speed of WordPress.  There is much image compression software that compresses image size without losing their quality.
Zip files
Make webpage files as zip files that will reduce the size of page thereby make it easier to load.
Clean up database process
Regular clean up of database is necessary to make website to keep in check.  Auto saved functionality of WordPress helps to keep track of any changes that are made.
Script compress
With the reducing of WebPages and images it is also good to compress css and javascript files in one file to make speed better.
Load images fast
In order to increase website speed it is must to speed the loading of images. Implementing css spirit is the good technology to load image fast.