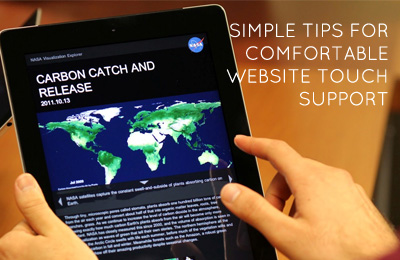 Smartphone have become the easy way to access the world and to spend their time usefully. Or to access the internet Smartphone is the priority because at most people access the internet via Smartphone. This small screen has become the essential source of internet access.
To make your website more comfortable for users thereby it could collect more and more visitors. Website should be compatible with mobile devices and should support gprs services. Touch screen technology is attracting more peoples so a responsive web design with mobile devices is necessary.
Proper inclusion of the page elements
on a web page with touch screen technology the size of the page elements should be of this type that they are easily accessible by human fingers. Page elements should be larger and easy to fit for a page. According to IOS guidelines the size should be 44*44 that is almost average to finger.
Accessibility while navigating
for a good web design it is must that design of website should be responsive regarding navigation and arrangement. In a touch screen website there is less physical space so design should be in proper manner. The navigation link should be large enough.
Enough space should be provided to wipe the screen
the content on viewing area of phone is crucial factor because a user should provided enough space to swipe on screen. There must be open spaces thereby user could easily swipe the screen. Wider line height value is the option that used to swipe the screen without clicking on a button.