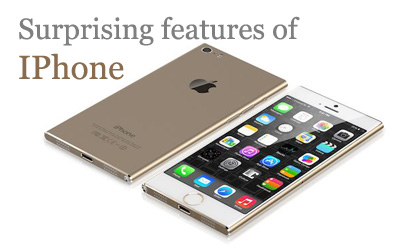 There are some features of I-phone that is possible that you do not know about them. If you are using IPhone from a long time and you are loyal user of it even you do not know about these features. Take look to some surprising features-
Switch control
This feature will shake your mind when you will know about it. You can control your cherished IPhone with your head. Switch control was initially created only to help peoples but it had some disabilities also. However it is usable for you. Access switch control with the menu setting, set it up and then by tilt your head you can check the content.
Fast charging
Everybody wants to charge their IPhone as fast as possible. You can do this. When charging IPhone then keep it on airplane setting and now you're IPhone will charge with twice speed. This is because now it is not wasting their time to search other things like wifi. Every user of IPhone should know about it.
Click photos with volume control
Sometimes it becomes difficult for you to take pictures with touch screen option. But do not worry because it is possible to take photos with the volume control option on your IPhone. If you are using headphone then do not worry. In headphone there is volume control button and you must try this feature.
Undo typing with slight shaking
Sometimes it becomes difficult to type on small screen because of this many things happen at the same time. To solve this problem Google made a wonderful feature. Slightly shake your IPhone and it will bring up some actions to cancel and you can continue.
Burst feature
If you are disappointed with the blurred photos then thanks to burst feature. Apple IPhone can take loads of photos at the same time. Just hold down your picture button during continuous stream of photos then scrolls your gallery and you will see beautiful pictures.