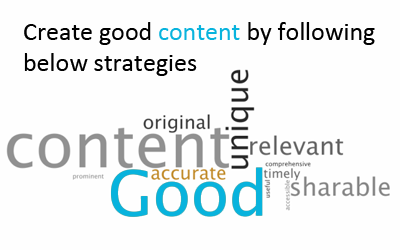 A great content take time and patience to make it effective and informative. There are some useful steps that you have to must follow. For different topics different procedures are followed and it takes time to give it a form of usefulness. Here are some strategies that can adorn your content with qualities.
A set schedule to content strategy
Regular updates on your website are must because relevance is much important factor for your website. It is said that website live or die on the basis of search engine existence. Whenever visitors visit your site they will find something new in your content. If they find daily something new and innovative and useful then your website will be more visit. That is why set a schedule to update the content of your website regularly to make it effective.
Different array of content
Regular content updates on your website are most important but different topics with more useful content broaden the appeal of your website. This type of update will influence a broad and large category of audience. Your website content should be follow your original theme and that should be match to a specific niche. If your site content do not follow specific niche then your site will not grow. It might be possible that it will work for some but a successful content strategy will avoid this pitfall.
Track your content
After posting the content on your site it is quite useful to track the content that how many visits and page views are there. If you are posting that content that is not of the interest of the visitors and no one visit that content then it is said that that content is bad content. There are many tools are available that will help you to track the page views and visitors of your content.