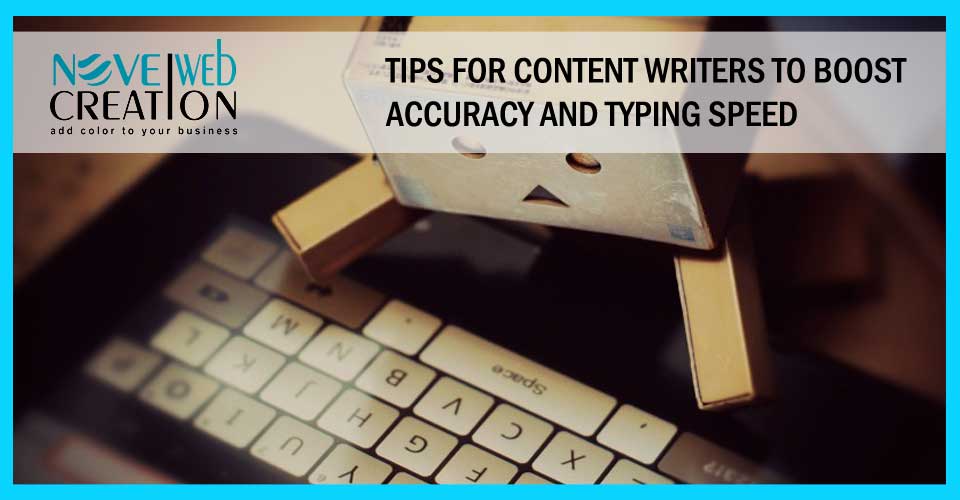 Typing speed and Accuracy of words is one of the biggest fundamental skills for the content writer. Not only for the content writer but any of field where you wish to pursue these two aspects plays a vital role like writing E-mails, Writing a blogger, writing blog, writing content etc. the average typing speed is 38-40 word per minute and the world record is 212 words per minute by the typist Barbara Blackburn . As well as accuracy is also the takes the same place as Typing speed. Because faster is not always better if your accuracy is getting compromised in writing.
In today's blog, I am going to tell you about some of the tips regard that how can you boost up your Typing speed and accuracy.
1.    Keep in mind that errors are the opportunities for improvement never ever take it as a failure. Because boosting ups typing and as the same hand making accuracy is tough. So keep calm and have passion and give time to yourself because we all know that mistakes always gives good lessons and teaches as a good thing.
2.    Use the proper hand placement on your keyboard never use only 1 or 2 fingers only for typing. Use all the 10 fingers while you type. Yes in starting it will take time back after a time it will be in your habit. along with that as more as you can do, use shortcut keys for work. it will improve your typing speed.
3.    Practice, practice and practice because practice makes man perfect. Practice is one of the best ways to see good result. If you practice in the same method for every day then believe on me you will see fruitful result in only just a few days.
4.    Along with the typing speed make concentration in your accuracy also. not to rush while you are typing the content and at the end read twice your content before going to  hand over to the client. Especially the points which you have to check twice are a number, dates, names, especially spelling, abbreviations etc.
5.    Use spell checker for your content but don't rely stolen on it. Using spell checker is a good habit, always use spell checker after completing your content but never trust on it blindly sometimes spell checker fail note small thing that can make a big difference
For example, I want to write "your" but by mistake I have written "you" so in this situation spell checker can't help you
So at the time you are using a spell checker for your content simultaneously you should read your lines also.
6.    Find an objective reader for your content.  Because as a content writer, it's hard to find your own ambiguities in content because you know that what your intended meaning was behind the lines and content. An objective reader or adding someone other to read your text will be and the best way to see that how effectively you are able to convey your content to your reader.