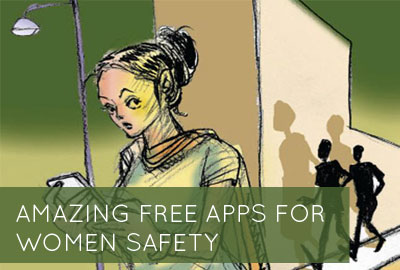 Technology has made much advancement and has launched number of apps to make comfortable your life. In this scenario for women's safety technology has launched any apps that works on only one click. Here are some apps that are developed for women safety.
Damini
if you are feeling any kind of danger then messages will automatically forward on your registered number. Your GPS location will also forward on these numbers in a time gap. Additionally, one after the activation of the app it captures the pictures of the place and send them on the registered numbers and save them on cloud also. If after that if mobile device is switched off and broken then also messages and call details can be extracted.
Circle of 6
however this app is designed especially considering the college students but it is very helpful for all women society. In any problematic situation with help of just one tape message will be forwarding to your friends.
Bsafe
with help of this app you can alert your family members and friends in any problematic situation. In this app you will have to feed numbers of your family members and relatives' thereby just one press of the button could send the messages. Additionally, call will also forward automatically. By activating risk mode you can share your GPS location with the given numbers.
Scream alarm
easiness is specialty of this app. This app extracts loud volumes. On any dangerous situation you can create a loud volume of a women and can aware the people around of you if you feel any kind of danger.