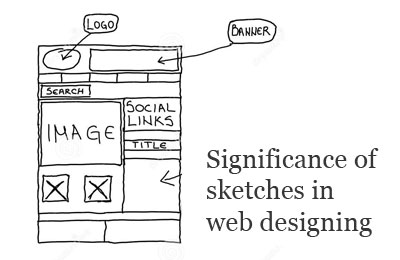 Web designers who hold experience of web designing and development know the importance of sketching. Sketches according to your aim make an exact way. Sketches not only convey your ideas but also give you new ideas for better functionality that increases interaction with human. To understand better flow of the work sketches are the best medium.
Vector images and graphics
in sketches vector plays very important role. Everything that is two dimensional is vector image and every single thing is denoted as vector image. With vector images there is no loss of image quality and pixel position. Even when you zoom the image, vector images will keep it smooth.
Grids and smart guides
grid lines are easy way to line up the elements with proper spacing. Grid lines with sketches enable to make customized grid lines according to your need. Smart guidelines assist you to know exactly when objects will line up with another.
Font accuracy
font representation of elements becomes completely different when design with Photoshop an amazing interface and port it with html and css. Correct web designing with exact selection of colors and font makes your interface more interactive and impressive. Fonts are the way to get exactly what we want. Typography is also another part of font representation to take user experience.