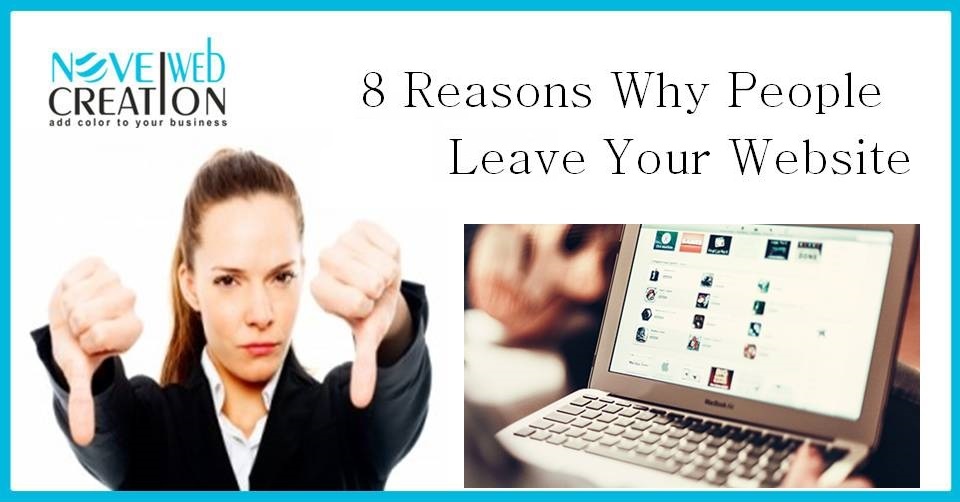 You've written some really compelling copy for your website. Your product images are polished. Your overall site design is professional. And thanks to marketing initiatives like these ones, you're getting traffic to your site.
So why is it that so few of those visitors are converting into leads and customers?
There are many opportunities to make mistakes that cost conversions on your website. If you're having trouble getting buyers to stick, consider whether you're making any of the following mistakes to cause visitors to leave your website without converting.
1.     Your design is outdated.
It's an unfortunate truth, Design matters. In the study, psychologist and researcher Dr. Elizabeth Sillence asked participants to review websites on the subject of hypertension and then rate whether they trusted or distrusted the website. In a surprising turn of events, the study found that 94% of wary respondents attributed their uneasiness to the website's design.
2.     Your content is difficult to read.
On a related note, consider that design isn't just about colors, images and graphics. The fonts you use, as well as the colors of your text and background, can determine how easily people can read and digest the content on your website. If it can't be easily read, it's simply not going to convert very well.
3.     You're overwhelming people with ads.
If your website is run on an ad-driven model, then removing them from your website entirely may not be an option. But just because you need to have ads doesn't mean you need to have them everywhere. Ads shouldn't be the first thing visitors see, and they shouldn't take up more of your site's real estate than its actual content.
4.     The videos on your site are auto-play.
Today's digital-savvy customers prefer to choose how and when they consume online content. Blasting at them without their consent is a quick way to drive potential customers from your website — without a purchase.
5.     Your registration requirements are obtrusive.
Gated content is great for driving leads into a website sales funnel. But gating everything and protecting it with restrictive registration requirements will kill your conversion rate.
As you create registration opportunities, ask yourself if every field you add is necessary. If you find it hard to cut anything, remember that Expedia earned an extra $12 million by removing one single data field
6.     Your site is slow to load.
Load times matter when it comes to website performance. Here are some key stats from their analysis:
47% of consumers expect a web page to load in two seconds or less.
40% abandon a website that takes more than three seconds to load.
Even a one-second delay (or three seconds of waiting) decreases customer satisfaction by about 16%.
If you've put off optimizing your site's load performance, put it at the top of your to-do list.
7.     Your product's benefits aren't clear.
If you aren't sharing your product's features with your customers clearly on your website, then you certainly won't compel them to move down the sales funnel.
8.     Your site isn't responsive.
Google's major mobile algorithm update is now available, so if your site isn't responsive to mobile devices, you'll likely lose out significantly in the organic search rankings.
That's not all, though: According to research gathered, "30% of mobile shoppers abandon a transaction if the experience is not optimized for mobile."
Transitioning to a responsive design can be a pain in the butt, but can you really afford to miss out on all that traffic and all those sales?