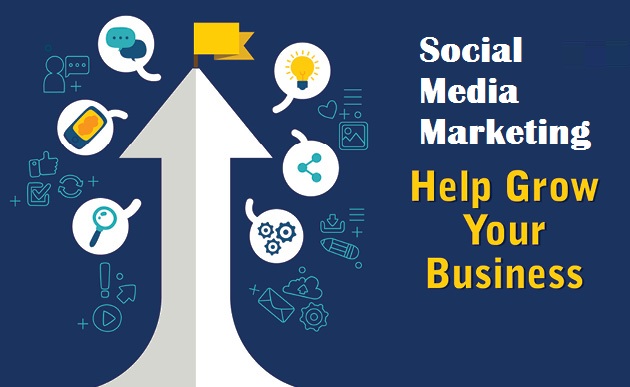 Today in this post Novel Web Creation about 'Grow Your Business Using Social Media'. Social media has become the best medium to grow any business online. It not only helps you increase brand awareness about your business and product in less money but also attract new customers.
If you use social media with the right digital marketing strategy, it allows you to reach customers directly. You can leverage social media to not only promote your product, but also generate some additional revenue from it.
But to successfully use social media marketing for business growth, it needs to be understood well. So let's start with the post 'Grow your business using social media' and try to understand the whole strategy as well.
What are social media sites?
The term social media sites refer to a computer-based technology that allows us to share our thoughts, knowledge, documents, photos, videos, etc.
Various Social Media Sites
Facebook
Facebook is a great platform to promote a business brand or promote a product. In this, by creating a Facebook page and posting posts related to your business, you can spread awareness about your product among people, which will help your business to grow. You can also promote your business through Facebook Paid Ads. Novel Web Solution Provide you social media ads service we create and post ads for your business on Facebook.
YouTube
Promoting your business through YouTube videos is proving to be very effective. YouTube has now become one of the biggest marketing platform which provides lots of opportunities to grow your business. So don't miss out on opportunities to grow your business through YouTube. We provide you 2d & 3d Animation video making service for your YouTube.
Instagram
Initially Instagram was used as a photo sharing platform. Now it has emerged as a great platform for business. Instagram has monthly world wide crores of traffic. Big companies promote their products on Instagram, you can also grow your business by creating an Insta page on Instagram.
Twitter
Like other social media platforms, you will also need to create an account on Twitter. You can post or tweet information related to your business through your Twitter account. It is very important to have Bio in your profile. In this you can share small details about yourself and your business. If someone is interested in your product or your business, he/she will follow you and there is every chance that he/she will eventually become your customer. Thus your presence on Twitter can be very beneficial for your business.
Pinterest
Pinterest is not just a social networking site. It is a visual search engine platform and people are using Pinterest to grow their business. Pinterest offers a unique way for all types of businesses to promote their products. As a visual search engine, Pinterest is very effective at attracting new customers to your brand.
LinkedIn
You will also need to create a profile or business page on LinkedIn. Give a brief description of yourself and your business in your profile that represents you and your business in a unique way.
What is social media presence?
Social media presence refers to how often a user posts and engages with people on their social media accounts. Most of the businessmen these days have their Facebook account and are also active on Instagram and other platforms. Because now even businessmen have started understanding the power of social media.
Why is social media presence important?
Social media presence is very important. This increases your reach to potential customers who may not know who you are or what your business is about. Having a social media presence allows you to reach a large audience with little money and at a fast pace. In this way, your presence in social media creates awareness among people about you as well as your business and ultimately leads to more sales.
Creating pages on social media sites
To register your presence in social media platforms, first of all you have to create your page on various social media sites. When you create your page on these sites, slowly people start knowing about you and your business. Whatever business you do, through that page, an audience related to it starts forming and at the same time your brand is also formed. In this way, by creating pages on social media sites, you can do branding and grow your business.
Staying active on social media sites
To increase followers, it is necessary to be constantly active on social media. To stay active on social media, you can post continuously in a time intervals. Can comment and engage with followers.
Always keep sharing interesting posts on social media sites
Always put engaging posts on your page. The post should be relevant to your business so that people are attracted to your post. Use the caption correctly as it is an important part of any social media post.
I hope this post will be helpful for small businessmen to grow online. Using social media it has become very easy to grow your business without spending any money. So in today's online era every small businessman should use these platforms and take their business from physical to digital mode.