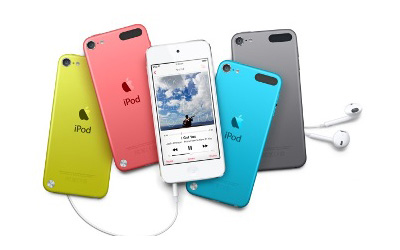 The Company Apple has announced a new 16GB iPod touch has been added to its lineup in India & it tags along a 5MP I-Sight camera as well as a lower price tag. Previous version of the music-centric device did not have a rear-facing snapper & was retailing for around Rs 18000/- Rs. What's more, the company Apple has reduced the cost for other models in the series too.
16GB iPod touch model has also gone official in the US along with the price cut for the other versions. Additionally, Apple was only offering the device in a single shade, but now plans to sell it in hues of yellow, space grey, pink & blue as well.  I-Sight camera on the rear is the same 5MP sensor found on the aged I-Phone4 and it is accompanied by an LED flash.
Key specs of the iPod touch fifth generation:-
IOS 8 upgradable with 4-inch Retina display.
16GB, 32GB, 64GB storage options.
Dual core Apple A5 chipset.
Up to 40 hours of music playback
5MP rear camera & Face Time HD front snapper.
In India, Apple notes that the price cut will be in effect across all authorized retailer stores where you will be able to get hold of the new 16GB iPod touch model.