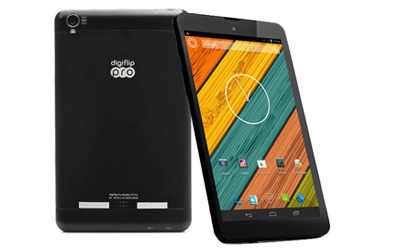 The Online Megastore 'Flipkart' is now hoping to be more than just another e-commerce website. Like Amazon began with Kindle tablets similar Flipkart also announced the launch of its own tablet series under their new Digiflip Pro brand.
The Flipkart tablet is called Digiflip Pro XT712; Flipkart is hoping to fill the gap when it comes to low-end devices. The Digiflip Pro XT712 is priced Rs 9,999– a fairly, 1 year warranty & 24-hour-call centre support.
As far as specs go, it is all pretty standard here: –
·        7-inch, 1280×800 HD screen IPS panel, 1GB of RAM, MediaTek MT6582 quad-core chipset running at 1.3GHz, 16 GB storage space and microSD slot with 32 GB limit.
·        The Digiflip Pro XT712 also features dual-SIM functionality with 3G and voice calling support, The Digiflip Pro XT712 comes with a 5 megapixel rear & 2 megapixel front camera.
This series will also feature included shopping benefits worth over of Rs 5,000 & free eBooks worth over of Rs 2,000. The tablet comes with the Flipkart app that comes pre-installed on the tablet so try this and get a chance to play around Ecommerce world with the new tablet by Flipkart.