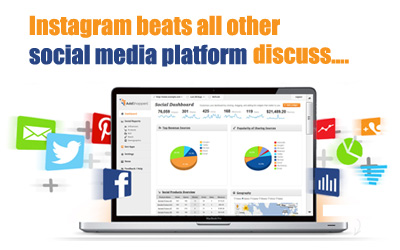 In the social media market many times your heard the name of Instagram, you can this talking point of present market. In order to increase the audience market, website traffic this is very useful tool for business. Here is discussion related to Instagram that why you choose it how it beats other social media sites –
Within few time Instagram is the fastest growing site in the field of social media market, within 4 years it has 200 million active users and within 5 to 6 years to it will be reaches same Facebook and twitter.
One of the most reasons of Instagram popularity is this user friendly, no issue is to be occur at the time of using Instagram. In this you can upload or search any type of image simply and innovatively.
In the main parameter of Instagram is image and video so it purely dependent upon the visual marketing, how much you visualize of your business in the same proportion the marketing of your business is to be increases.
The engagement of Instagram is higher than the other site, with the one example you can understand the value it, means that the if you see the likes of same website on Instagram and Facebook then you can see that Instagram has more like from other social media sites.
Instagram also sustain higher quality traffic from other social media sites.