Local Seo for Small business
Long back businesses were run solely on the acumen of salesmanship. But after global digitization SEO for small business has become inevitable. These days salesmanship involves the knowledge of SEO. But today also some business does not require it while some cannot do with it.
There is a term known as local SEO: Now what does it mean and how is it used
Local SEO is that process in which a website is optimized so that whenever there is a search on google/yahoo like search engines regarding your area then your website's name comes in the top results. Let us try to understand this better with the help of examples:  website Company in Jaipur
Rajasthani food in Jaipur city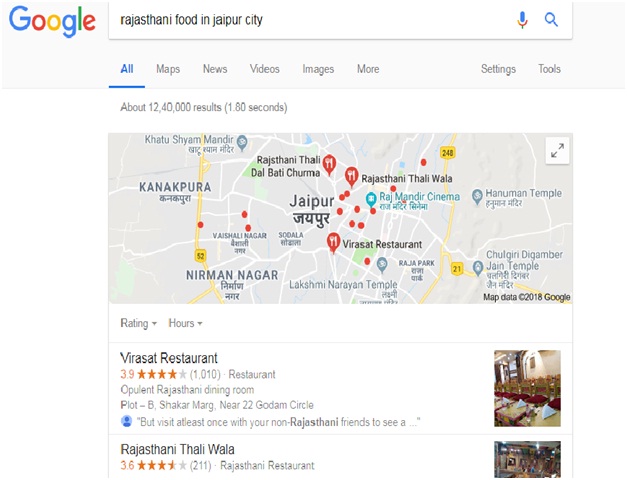 With all these results I am pretty sure that it helped you find out the best possible place for Royal Rajasthani food and you were able to enjoy your trip to the fullest.
Now, why do you think only few business shows up in the results when you searched? Because business in this case restaurants which serve Rajasthani food have to prove that their site deserves to be in the top results. They have to prove their worth to google or any other search engine for that matter. This is not an easy task as Google itself has very discreet and difficult process to select sites for top listing. As businesses appearing on the top results will have higher click through rates and overall people traffic.
This process of search and top listings is basically a symbiotic process. Where google wants it customers to have the best possible experience through its search query results while the user wants a place where he can make visit and satisfy his requirement in that particular area.
Local SEO is for every small or big enterprise. Because these days people first check things on internet and then they would physically go to visit the place. Like if need a dental treatment before going to the clinics, I would first search best dentists in my locality then only I will visit.
So it becomes clear that no one kind of venture needs to be Search engine optimized but every kind of business if want to be successful will have to comply with SEO needs. To show the presence of your business digitally is one big requirement these days.
The benefits of SEO in business are quite evident today. Some of the big site plus points are as follows:
1. With SEO is possible to appear in the top search results on Google. To appear on the top is important as people only tend to see just starting few results. So the businesses which do not appear in top search have the possibility to lose a lot of business.
2. In a local search, the businesses are concentrated in a small area, so conversion rates increase. As more search more, more people will reach the place. Hence higher concentration of visitors and more profits.
3. Even if you have started small, you can convert into a big brand name by being on the right side of SEO. More people will get aware about your business and they visit by searching it online. Once they visit then the ball is in your court. Impress the visitors with your services. Hence more awareness on digital world about a venture can actually turn it into a brand. Like NishaMaduhlika (CookingYoutuber) if she opens coaching classes, she will be way ahead of people starting afresh. She has made herself a brand.
4. A brick and mortar stores cannot work in isolation. A search engine optimized site of the store will get more customers than any other marketing strategy. Today is the time of home deliveries, people have become lazy and they want to find every option at their door step. Hence Local SEO will increase your returns on investment. It will gear you up for fast paced growth.