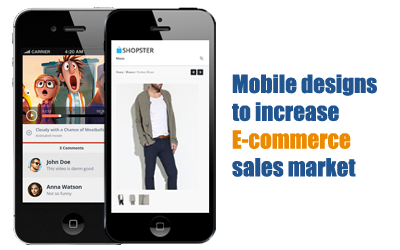 Whenever users go for purchasing a smart phone then each one expects a similar experience that if not better than in a physical store. That is why design your mobile devices with the high technology that meets the requirement of the customer and probably surpass it to boost the sales.
To achieve this target you can break down your website interface in to facets and identify the design patterns that have capability to build or improvise within those facets that can augment ecommerce sales.
Home page
Home page is basically that place where the actual business starts. Home page should be designed in this manner where all the details about the brand and their discount services and other services that are beneficial for users. Always try to dig up those things that are customer looking for and provide reports in daily basis that help you achieve. Home page is the best idea to success of your ecommerce sale. Always reduce textual content and increase functional aspects that give proper importation and understanding of your brand.  If you are able to do above described things and can find whatever customer find then your business will grow surely and success will flow thorough your door.
Some design patterns are here that are generally follow-
1. Search option should be in this way from where you can access all the website area.
2. Navigation links should be forward to easily like registration form, promotional sites, loyalty form and other store brands area of website.
3. In single column show the design patterns and key products.