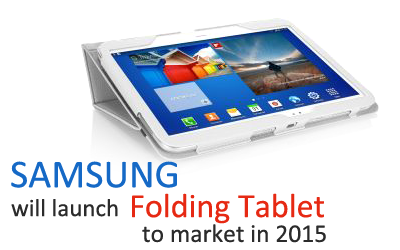 In Smartphone segment Samsung will launch folding tablet in 2015 for the interesting user and it will be a new invention in the market means in other word it will be big thing. The new folding tablet would be with full HD resolution & 8-9 inch OLD display.
If we talk about the Samsung invention then it is not big surprise because before 3 years from now Samsung company invented a flexible Smartphone also. So in simple word from last eight months the growth of Samsung Company is rapidly increases.
The functions of new folding tablet are very advanced from the present Smartphone. Thus we can say that the folding tablet by Samsung Company will be big achievement for the user. The using method of it also be simple and friendly for the user, As per the safety point Samsung patient their invention.