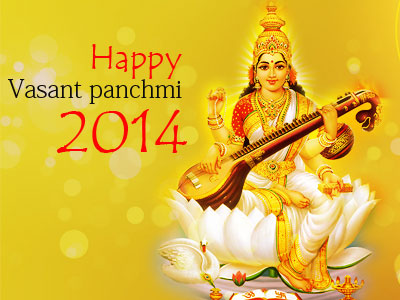 Mostly vasant panchmi comes in the month of January or February & that celebrate on the panchmi of sukal paksh and this year it comes of 4th February 2014. Vasant panchmi also in itself is energetic words because the meaning of vasant is spring & panchmi means fifth day. In the period of vasant panchmi having soft cold along icy season, so it gives the softness message also.
It is believed that on this day the birthday of goddess of saraswati & she is Shakti means energy related to the deity, Lord Brahma. In the school also a special prayer is speaking for the better and bright future & organizes a special event in the school regarding for vasant panchmi. On this day without any muharat mass number of is to be happened.
On this day there is most significance of yellow color because it is the favorite color of goddess saraswati & in this season crop will become yellow, so these are the sign of vasant panchmi. On this auspicious people make yellow dishes or use yellow saffron color to make. So in simple meaning the festival of vasant panchmi are combination of joy, happiness, pleasure, sweetness & many more.